April 26, 2012 | by
admin
|
dance
,
events
,
flipz5
,
Miami
,
photography
,
Rok The Spot
,
Uncategorized
,
video
|
Dillon Francis
,
Diplo
,
dj craze
,
empanadas
,
grand central
,
Hard Fest
,
Mad Decent
,
Massive
,
moombahton
,
Nadastrom
,
rok the spot
,
WMC 2012
|
No Comments
Hands down our favorite party of WMC 2012. Dave Nada said it was his favorite in a long time and every person there would agree they had  a fukkin blast. My official rating is that it went 2 x Ham and 3 x Ratchet. Double Ham. Triple Ratchet. Maybe even triple Hammer time.
Plenty of cameos too. Evol Intent, Kill the Noise, Zeds Dead, A-Trak, Jessie Andrews, MUNCHI!!!, Plastician, 12th Planet, The Others, Caspa, Congo Rock, Spider Man, Roxy Cottontail, Kid Cedek, Vicious Viv and probably a million more.
There had been speculation (mostly by me) about whether or not empanadas would be available for purchase. You know, holding up the moombah mass tradition. Sadly there were none, so I made up for it in the video.
Full photo album
March 27, 2012 | by
admin
|
Miami
,
music
|
Dj Blass
,
Dj Exit
,
fight
,
Goldrush
,
Hard to Leave
,
miami
,
moombah
,
moombahton
,
Munchi
,
overthrow
,
strip club
,
WMC 2012
|
No Comments
     Last night marked the end of WMC 2012. One of the more anticipated parties is Overthrow's "Hard 2 Leave" which was being held at Goldrush strip club for the 3rd year straight. Ass, titties and bass. All sound very tempting. Up until now I'd heard only great things as your perverted minds could imagine.
     Unfortunately, last night shit got ugly. Apparently Munchi and Big Makk were on their laptops working on music inside the club. Yeah that sounds like a bad idea to begin with knowing how standard strip club policy is, but I highly doubt they deserved this. Whether or not they were told this could cause trouble, I dont know. I hope  justice is served and the bouncers and venue are handled properly. The shit they did was wrong.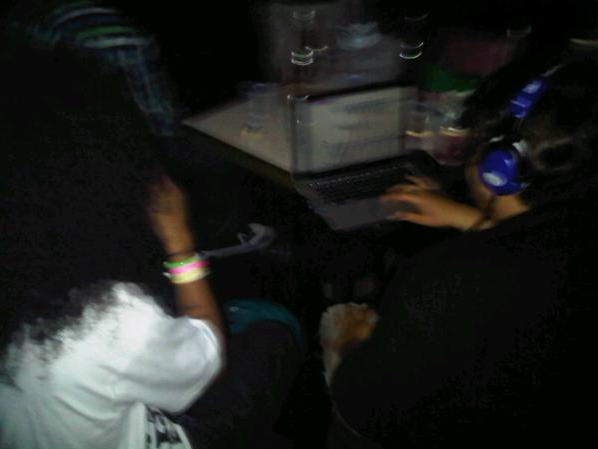 photo via twitter.com/TheeMikeB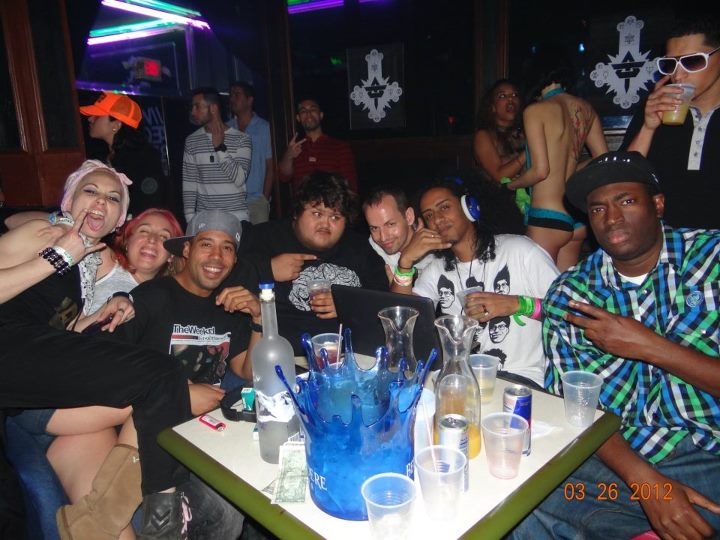 You can see Blass, Makk, Matt Nordstrom, Munchi on his laptop n Dave Heartbreak chillin
photo via Dj Exit
Big Makk claims that the bouncers literally just rushed them out of nowhere and fukked them up. Its not far fetched they would do that because there are plenty of asshole bouncers down here whose only feeling of worth comes from bullying people. Useless fukkin pieces of shit humans who have nothing of purpose to offer the world.
This is sad because it marked the first time Munchi was a part of WMC here in Miami. We met him on wednesday night and he's a cool fukkin guy. Humble as can be and crazy talented. Munchi is a basically a moombahton god but with his skill can go so far beyond that he can and will take music wherever he wants. He's on his Andre 3000.
I'll update this post as I find out what happened.
Every time I see this photo I keep hoping its just photoshopped…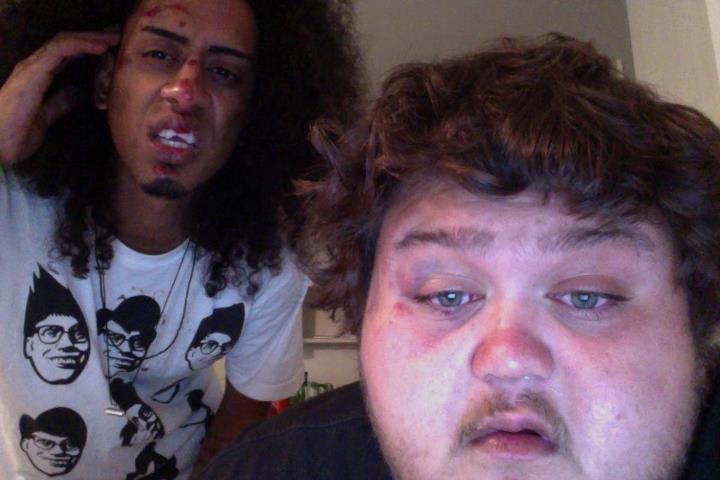 photo via Bigg Makk
*** UPDATE 3/27 4am***
Via Munchi:
In the FB Moombahton & Moombahcore group
Damn, my dude Big Makk, DJ Blass, his dude & Me got fucked up at the WMC son. Unnecessary bullshit – we were in front of the backdoor (which was next to the dj set) when waiting for my set at the Goldrush strip club that was in 10 minutes. Me and Makk were talking on some real shit and we couldn't hear what we were saying, so we opened the door. The bouncer came and he was like you can't do that anymore. So we didn't open that shit anymore. Next thing you know 3 dudes got outside via that door while we were right in front of it. Same bouncer comes up and he was like: I told you guys to not go out here. Not listening to what really happened he got all of the bouncers and kicked all of us out. Dude with nun chucks (yes a fucking bouncer with nun chucks) hit me on the arm and was felt mad tough about it. Same bouncer came later on out of nothing to smack me on some suckapunch bitchshit – which made the loss of my front teeth and my fucked up face. Makk was thrown inside the club and they closed the door while we were outside and they all jumped on him, gettign his eye and head fucked up. Blass' dude got so fucked up he got a hole in his fuckin head and bleeding everywhere from his arms to his face. It could've gotten way worse and I had to ignore my fucking teeth and blood to get Makk, Blass and Blass' dude out there. The entire night we were sitting at a table making the fucking Makk x Munchi x Blass anthem and nobody had problems with it. Every fucking one saw that shit happening, everyone saw Makk getting that lapdance, and the fun, wtf – we did nothing wrong. In the end the ambulance & police came, and later on in the day I fixed my teeth. I still haven't slept and honestly I don't give a fuck, because I got the confirmation once again about all the sketchy shit that has been going on. I thank those who feel offended by this – que dios te vendiga mothafucker.