September 21, 2011 | by
Carlos P
|
art
,
carlos
,
Rok The Spot
|
acid
,
art
,
carlos
,
donuts
,
dunkin
,
graffiti
,
guy
,
paint
,
painting
,
palomeque
,
spray
,
trippy
,
wise
|
No Comments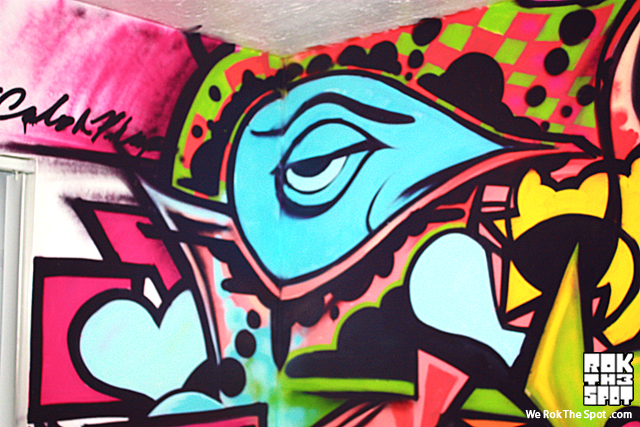 I came up with this character the first time i did acid. I was still trippin when i had got back home from a pretty wild night that consisted of car hopping, party crashing, girls with big tits wearing red t-shirts (prior to that day I kinda hated the color red, no lie) getting chased by friends that looked like leprechauns and traveling through the matrix via Dunkin Donuts bathroom. I remember trying to convince my brother to stay awake because I couldnt fall asleep. He stayed up for a bit and started showing some pretty crazy drawings he had done himself which  is what triggered that inspiration to start drawing from a  multiple perspective…Any who. Basically by looking at this character you would assume that "Its you" that is looking at an illustration of an oval head shaped dude with a pointy nose. Really its suppose to be somebody from an outside world looking through a peephole making observations of whats going on in our world today. Which in this case would make us the heartless and unconscious illustrations that keep creating yet effortlessly destroying….Huh??? WHAT?!?! (I'll upload the original drawing sometime next week, if i remember too)
heres a portrait of the lovely Erykah Badu painted by Carlos of Rok The Spot.
She was scheduled to be down here for Winter Music Conference a year or two ago. We tried to make it to a panel she was going to speak at but destiny said "nah pimpin, maybe later".
She has a new single out "Jump in the air and stay there".
i dig it.
check it on her site: Erykah Badu.Com