April 9, 2012 | by
admin
|
hip hop
,
music
|
beef
,
Havoc
,
hip hop
,
marriage
,
Mobb Deep
,
p
,
prodigy
,
rap
,
Rihanna
,
The Infamous
,
The Real Havoc
,
twitter
|
No Comments
Havoc went off on Prodigy late Sunday night via twitter.
Last I checked there weren't any responses from either Prodigy or…Rihanna?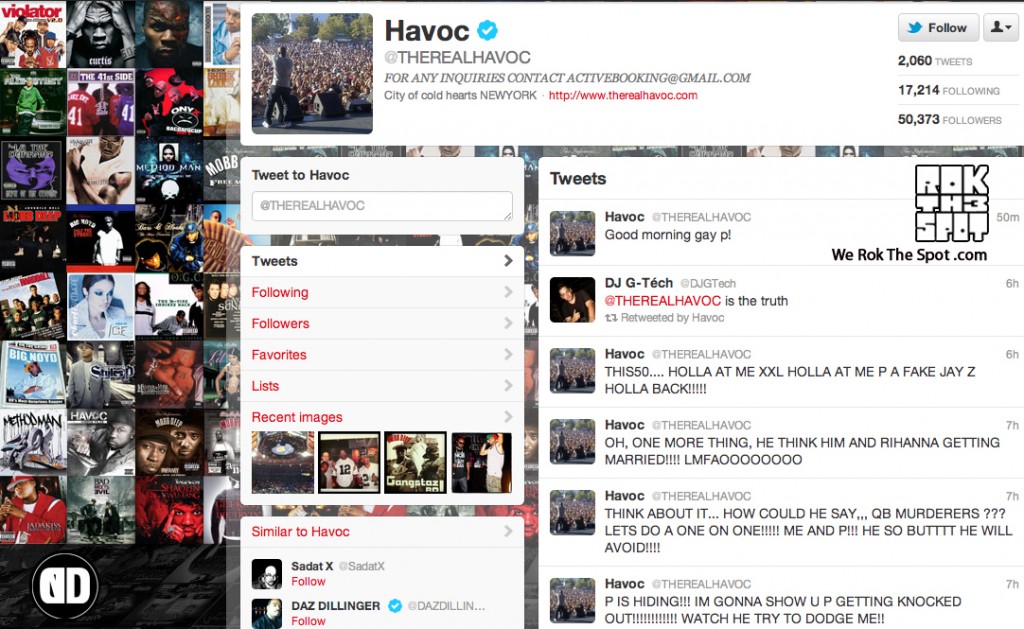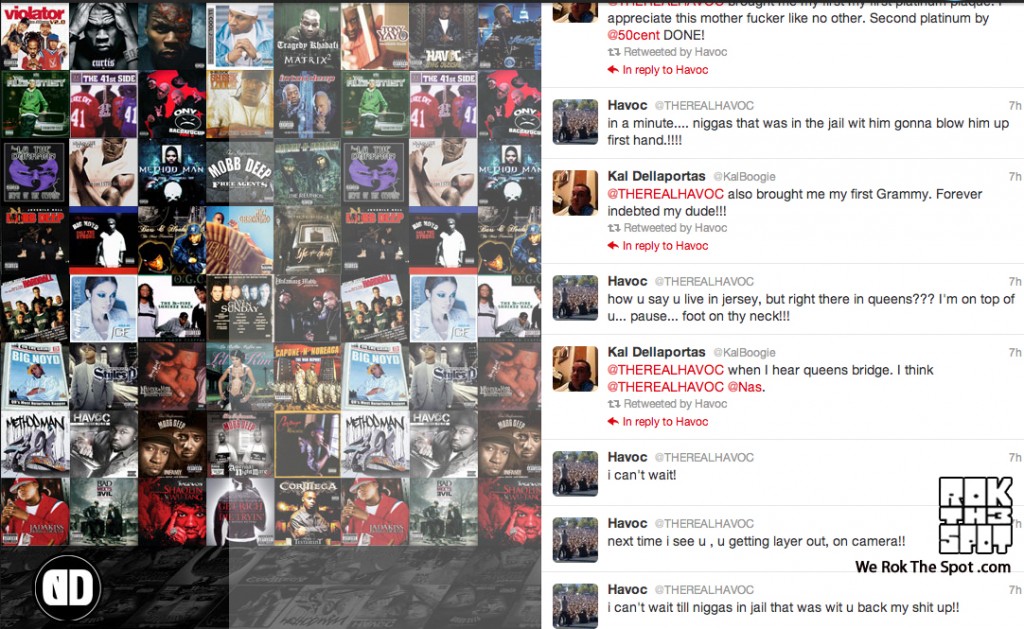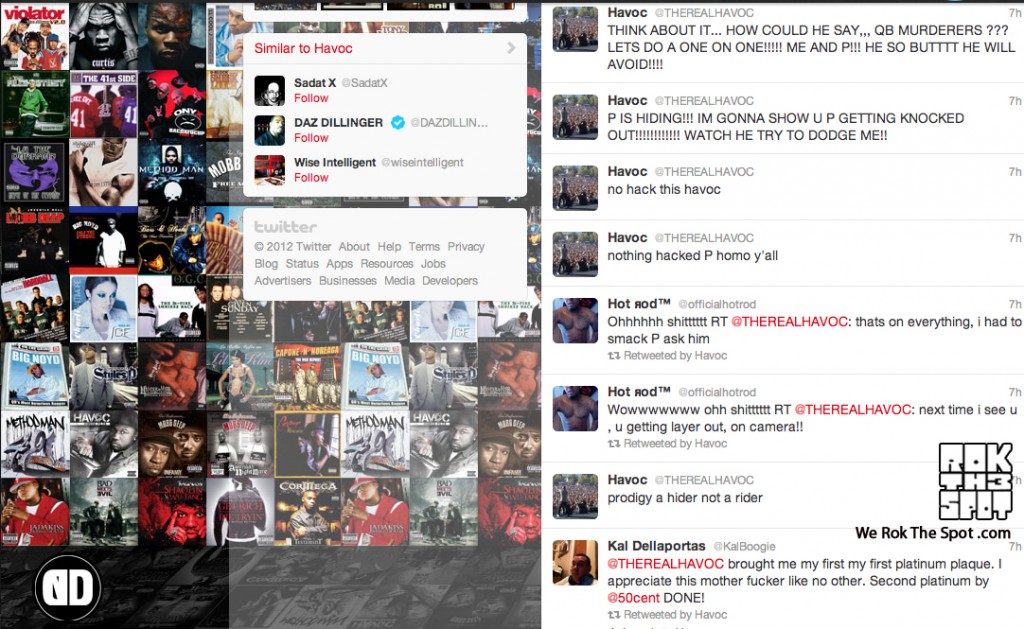 * UPDATE *
Prodigy joked saying he bought this belt for Havoc: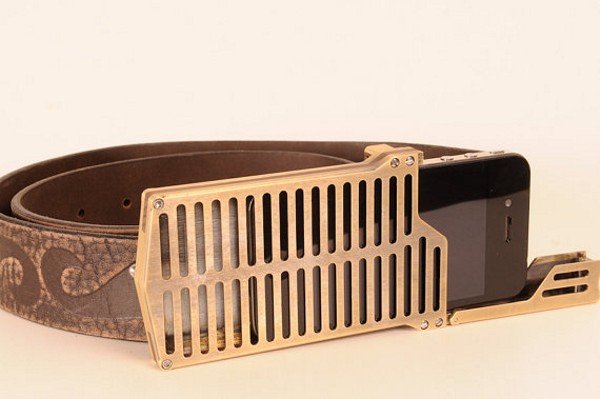 Havoc claims his phone was stolen the night before and that it wasnt him making the posts. Then audio clips of Havoc surfaced online somewhere I guess talking about P. Prodigy claims they're good and they just "set traps", meaning that the whole ordeal was intentional. A lot of people are more confused than anything cuz something about it doesn't add up. Oh well. On top of that, anonymous sources claim that theres been mad tension between them for a long time and there will probably never be another Mobb Deep album again.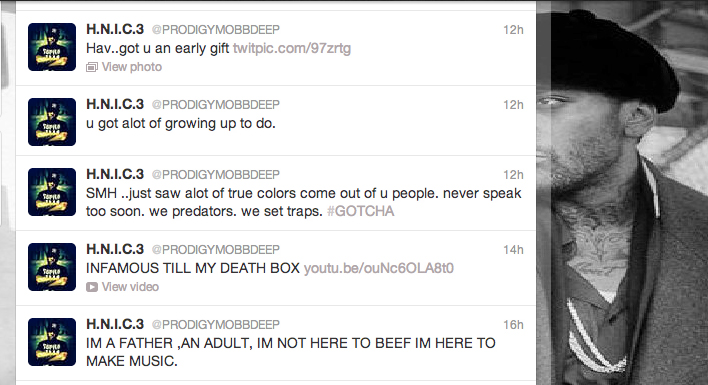 April 5, 2012 | by
admin
|
dance
,
events
,
hip hop
,
music
,
video
|
battle
,
Cassette
,
dj
,
DMC
,
hiphop
,
Latvia
,
Mr Tape
,
Russia
,
Technics
|
No Comments
Latvia reppin hard. No $ for turntables and vinyl?
No Problem.
These cats said fukkit we'll just rock tapes. Take nothing and make it a miracle.
This here is the true spirit of hip hop.
This is too trill. Dance moves and all.
"Quick to set it, don't wet it Real niggas lick shots, peace Connecticut Mr Cassette" – Raekwon
March 27, 2012 | by
admin
|
Miami
,
music
|
Dj Blass
,
Dj Exit
,
fight
,
Goldrush
,
Hard to Leave
,
miami
,
moombah
,
moombahton
,
Munchi
,
overthrow
,
strip club
,
WMC 2012
|
No Comments
     Last night marked the end of WMC 2012. One of the more anticipated parties is Overthrow's "Hard 2 Leave" which was being held at Goldrush strip club for the 3rd year straight. Ass, titties and bass. All sound very tempting. Up until now I'd heard only great things as your perverted minds could imagine.
     Unfortunately, last night shit got ugly. Apparently Munchi and Big Makk were on their laptops working on music inside the club. Yeah that sounds like a bad idea to begin with knowing how standard strip club policy is, but I highly doubt they deserved this. Whether or not they were told this could cause trouble, I dont know. I hope  justice is served and the bouncers and venue are handled properly. The shit they did was wrong.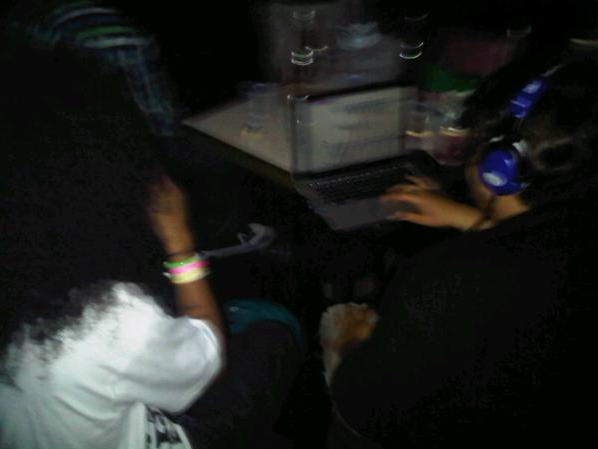 photo via twitter.com/TheeMikeB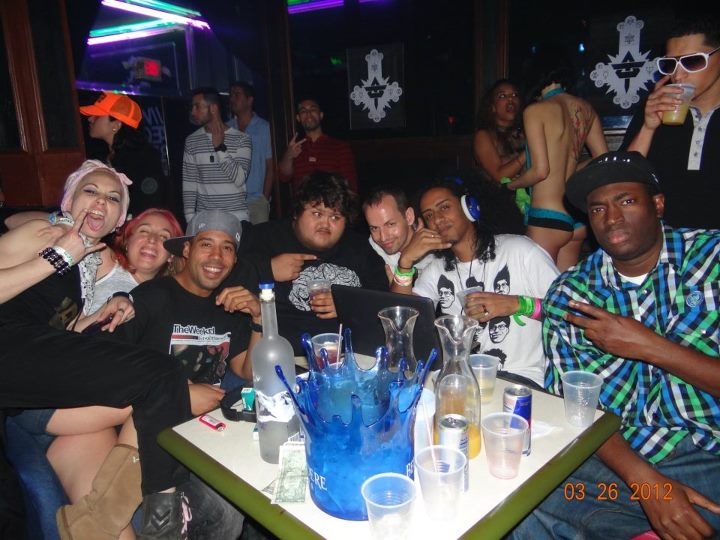 You can see Blass, Makk, Matt Nordstrom, Munchi on his laptop n Dave Heartbreak chillin
photo via Dj Exit
Big Makk claims that the bouncers literally just rushed them out of nowhere and fukked them up. Its not far fetched they would do that because there are plenty of asshole bouncers down here whose only feeling of worth comes from bullying people. Useless fukkin pieces of shit humans who have nothing of purpose to offer the world.
This is sad because it marked the first time Munchi was a part of WMC here in Miami. We met him on wednesday night and he's a cool fukkin guy. Humble as can be and crazy talented. Munchi is a basically a moombahton god but with his skill can go so far beyond that he can and will take music wherever he wants. He's on his Andre 3000.
I'll update this post as I find out what happened.
Every time I see this photo I keep hoping its just photoshopped…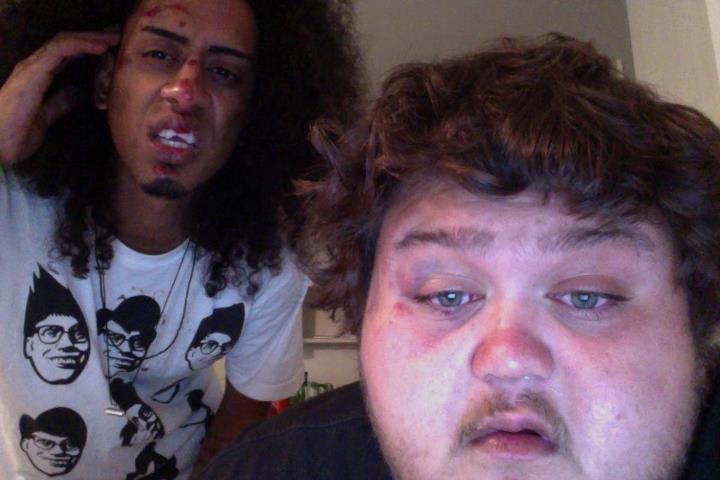 photo via Bigg Makk
*** UPDATE 3/27 4am***
Via Munchi:
In the FB Moombahton & Moombahcore group
Damn, my dude Big Makk, DJ Blass, his dude & Me got fucked up at the WMC son. Unnecessary bullshit – we were in front of the backdoor (which was next to the dj set) when waiting for my set at the Goldrush strip club that was in 10 minutes. Me and Makk were talking on some real shit and we couldn't hear what we were saying, so we opened the door. The bouncer came and he was like you can't do that anymore. So we didn't open that shit anymore. Next thing you know 3 dudes got outside via that door while we were right in front of it. Same bouncer comes up and he was like: I told you guys to not go out here. Not listening to what really happened he got all of the bouncers and kicked all of us out. Dude with nun chucks (yes a fucking bouncer with nun chucks) hit me on the arm and was felt mad tough about it. Same bouncer came later on out of nothing to smack me on some suckapunch bitchshit – which made the loss of my front teeth and my fucked up face. Makk was thrown inside the club and they closed the door while we were outside and they all jumped on him, gettign his eye and head fucked up. Blass' dude got so fucked up he got a hole in his fuckin head and bleeding everywhere from his arms to his face. It could've gotten way worse and I had to ignore my fucking teeth and blood to get Makk, Blass and Blass' dude out there. The entire night we were sitting at a table making the fucking Makk x Munchi x Blass anthem and nobody had problems with it. Every fucking one saw that shit happening, everyone saw Makk getting that lapdance, and the fun, wtf – we did nothing wrong. In the end the ambulance & police came, and later on in the day I fixed my teeth. I still haven't slept and honestly I don't give a fuck, because I got the confirmation once again about all the sketchy shit that has been going on. I thank those who feel offended by this – que dios te vendiga mothafucker.
March 20, 2012 | by
admin
|
carlos
,
dance
,
events
,
flipz5
,
Miami
,
music
,
photography
,
Rok The Spot
|
2012
,
Events
,
fsob
,
Game of Thrones
,
meme
,
miami
,
Miami Beach
,
moombahton
,
schedule
,
Smog vs Basshead
,
Smoothie Wolf
,
Winter Music Conference
,
wmc
|
No Comments
Welp, one of the best holidays of the year is here one mo'gain.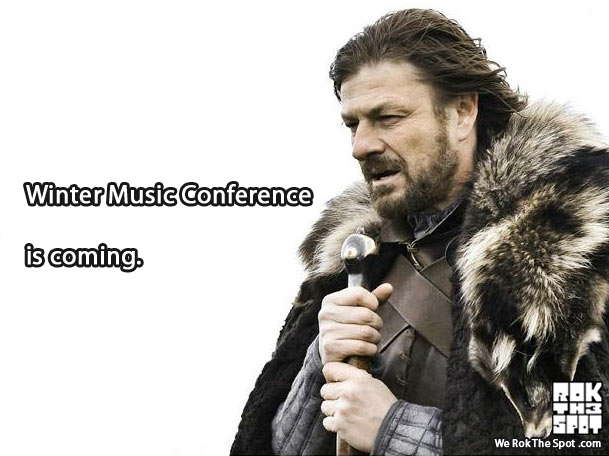 WMC!!!
Heres a look at some spots where we feel you should be doin the damn thang. Cuz we're getting doooooowwn, ya diiiiiiig?!
Wednesday:
Moombahton Massive @ Grand Central:
We fux with Moombahton, HEAVY.
To me it sounds like electro reggaeton and also party gods answering my prayers of bassy music that sessy girls can really get down to. Hot girls fuck with dubstep but with moombahton you get also get the girls that usually go out in heels and shit and make them act like releasing their inner chonga. If you've never heard it but enjoy having fun then shut your face and stop by. This is a who's who of Moombahton move makers. Im excited to see the Buraka Som Sistema mc set cuz I aint seent that before. Ive seen J-Wow spin before and he's dope. Im ru-heeeeeally hoping one cat who shall remain unmentioned comes through and rips shit. Moombahton Massive in Miami without him just wouldnt be right. Sandungueo!!!
* I also want some fukkin Nada empanadas and Smoothie Wolf.
Check this out in the mean time:
Nadastrom x Sabo – HARD Miami Moombahton Massive Mix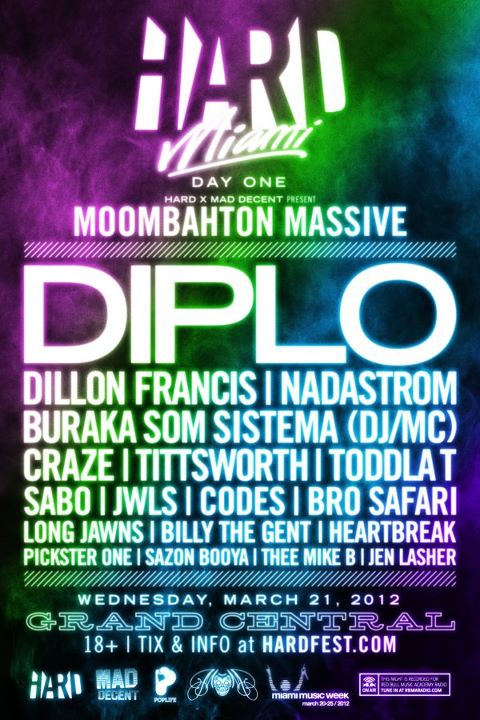 Thursday:
Smog vs Basshead @ Mekka
Fukkin ay, dawg. Really? This needs no type of explanation. I guess this is dedicate to the folks that swore dubstep was a trend and would only last a few months. Sucks to be you. Years later we still have this going on.  All I can say is get there early cuz it will sell out and be packed as fuck. Smog and Basshead dont mess around.
More bass than you'll know what to do with. Rill tawk.
*Much respect to Juan Basshead for holding down Miami forever.
Friday:
* Fools Gold rap party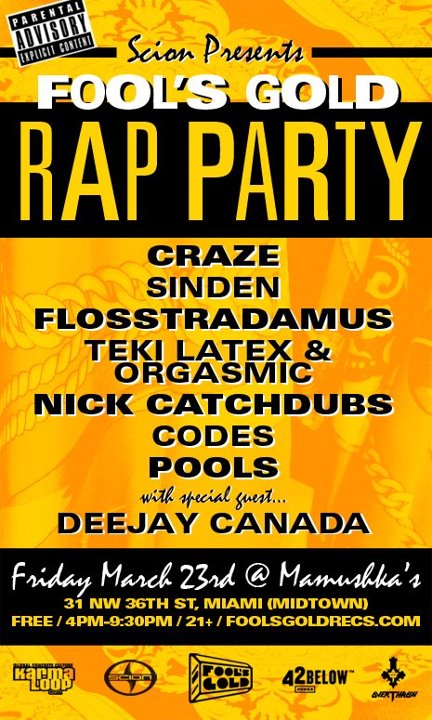 Future Sound of Breaks – 10yr Anniversary @ Mekka
This lineup is too intense.
Much respect to Mr Glynn Morgan and his crew for continuously putting together top notch madness.
Oh yeah, ARAAB MUZIK!!!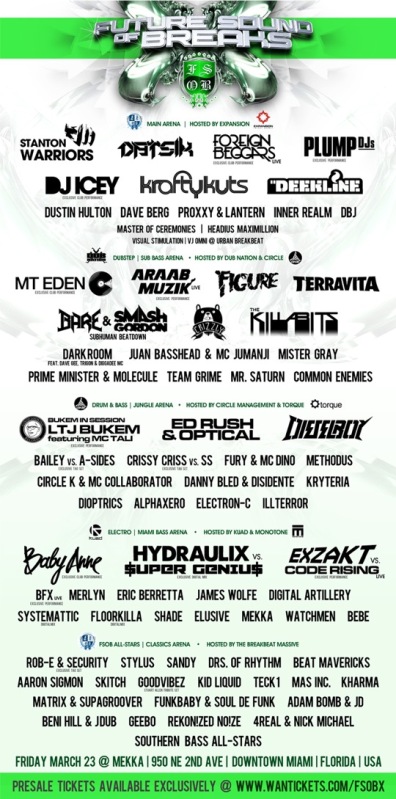 Never forget…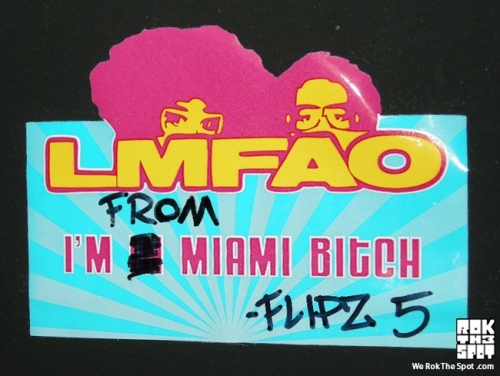 *Keep checking for updates!!!
Rest in Peace Christopher Wallace
"Your life is played out like Kwame, and them fuckin polka dots
Who ROK THE SPOT? Biggie!"
You folks have a good day and remember a better time in hiphop music.
If you know anything about me, (you dont) then you know that Im a sucker for animation. This is what Ive always wanted a Gorillaz video to look like.
"everybody hit the floor, we thru the roof,
like a chimney, I commend me, how come it be,
Some lame ass nuhh talking bout,
"He aint rap enough"
But y'all rap a lot and Im like wrap it up, ho.
You aint Scarface, you aint Willy D, you aint Bushwick
You aint killing me."
- Andre 3000
February 24, 2012 | by
admin
|
art
,
funny
,
Miami
,
music
,
Rok The Spot
|
album cover
,
cartoon
,
Diplo
,
girls
,
Mad Decent
,
Major Lazer
,
miami
,
Party
,
zombies
|
No Comments
This right here is a blast from the past.  Long ago Mad Decent held a contest to remix a Major Lazer song and/or album cover. My super producer skills were not on point back then so I went with what I knew best. Party fun time…or art related biz.
Personally, I still think this was one of the dopest covers in the contest. The voting system was very iffy and clearly I should've won and brought home the goods, buuuuut it was still fun.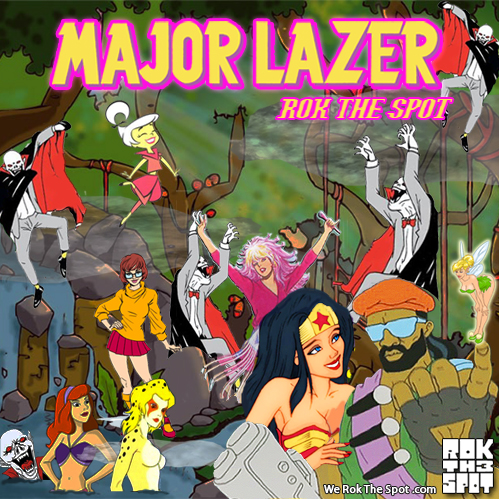 February 21, 2012 | by
admin
|
dance
,
dubstep
,
events
,
Miami
,
movie
,
photography
,
Rok The Spot
,
video
|
12th Planet
,
Atrosolis
,
craze
,
Danny United
,
dubstep
,
edm
,
Flinch
,
grand central
,
Media Contender
,
miami
,
TEIN
,
The End is Near
,
video
|
No Comments
On February 2, 2012, The End is Near tour hit Miami,FL at Grand Central. Even though the city was still recovering from the Mothership Tour, these L.A cats were ready to do more damage. This stop of the tour had Flinch and 12th Planet reppin the west while JWLS and Craze were reppin for Miami.
I caught the end of Flinch's set. Craze did a lot of the DRT DWG stuff, which went off!!! 12th Planet did what 12th Planet does. He didnt crowd surf though but thats only because of the stage setup. Even then Im sure he was still figuring out a way around that.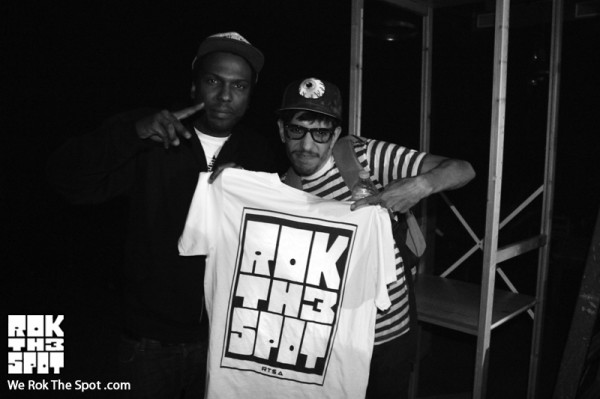 12th Planet and Atrosolis (Hex "Meet and Greet" winner)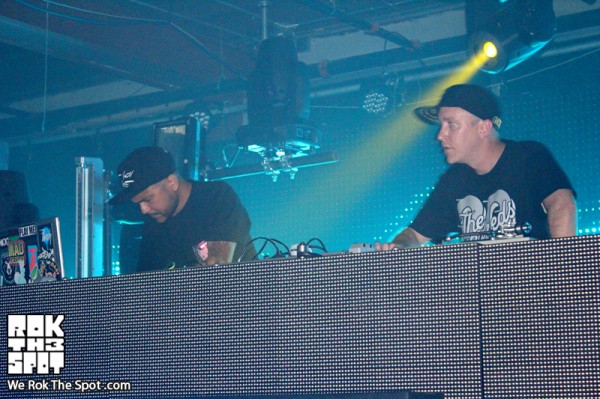 Craze and Flinch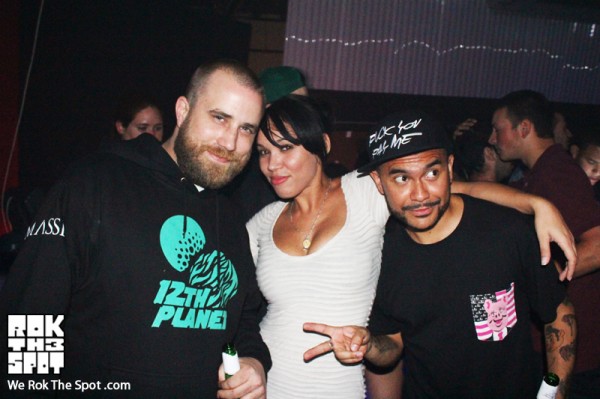 Danny United, Roz & Craze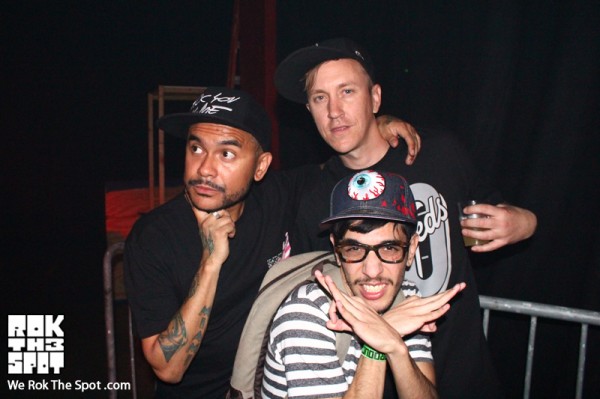 Craze, Atrosolis & Flinch
February 13, 2012 | by
admin
|
dance
,
events
,
hip hop
,
Miami
,
music
,
Rok The Spot
,
video
|
anniversary
,
drums
,
Jeremy Ellis
,
John Arnold
,
live
,
maschine
,
miami
,
mpc
,
Reset Miami
|
No Comments
Jeremy Ellis and John Arnold in downtown Miami for Resets 1 year anniversary. I got word of the show just a few hours before it happened and man Im glad I made it.
Maaaaaaaaan those dudes got funk in their blood. Its in their souls. Ooooooooooooweeeeeeeee.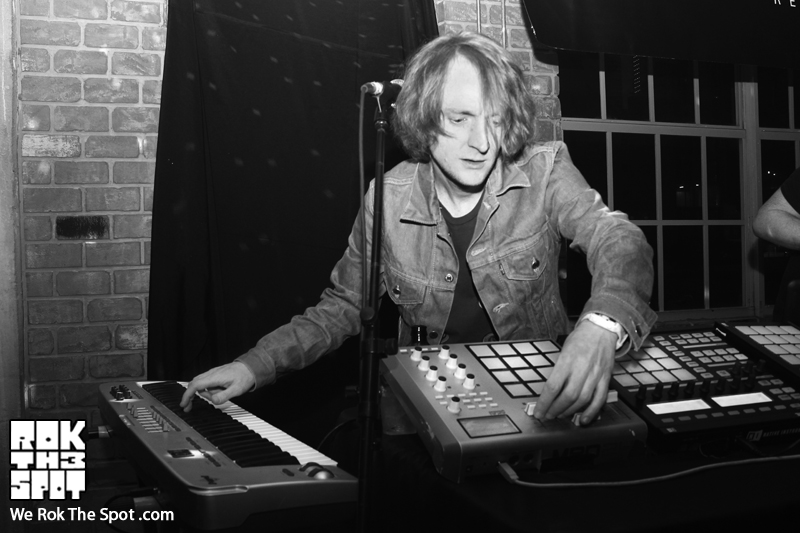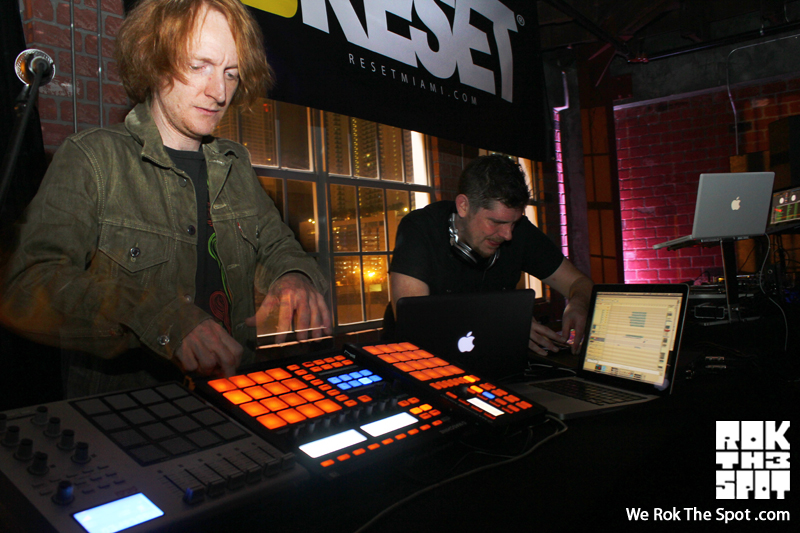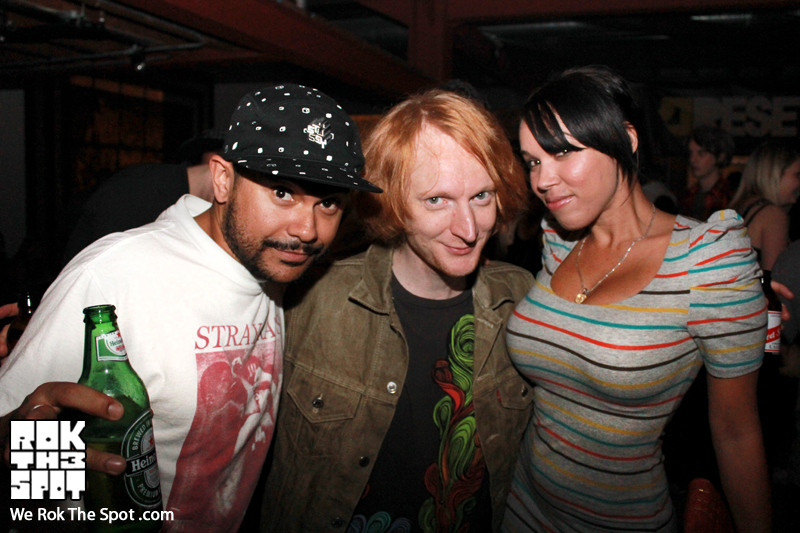 January 11, 2012 | by
admin
|
art
,
carlos
,
dance
,
dubstep
,
events
,
flipz5
,
Miami
,
movie
,
music
,
photography
,
Rok The Spot
,
video
|
12th Planet
,
Arkadia
,
Dave Nada
,
dubstep
,
Fountainbleu
,
grand central
,
hotel
,
Matt Nordstrom
,
Media Contender
,
miami
,
Miami Beach
,
Mothership Tour
,
Nadastrom
,
Rock The Spot
,
rok the spot
,
skrillex
,
The FIllmore
|
1 Comment
"The Mothership has landed, MIAMIIIIIIII" -12th Planet
I hit up Danny from Media Contender because I wanted to come through for the show at the Fillmore even though it had been sold out for months. He said yes but asked that I cover all 3 Mothership parties that weekend.
Challenge: ACCEPTED
I got to the Fillmore after 9pm. They're really puntcual there and 12th Planet has just begun his set when I walked in. The crowd was live. It was an all ages show though so I kept my gangster to a minimum. 12th Planet is a G. After his set I chilled backstage w/ some of the Slow Roast fam and watched magic for a bit but got kicked out of backstage for being too handsome. At least thats what I think. The girl that kicked me out was really formal so theres no beef. Anyway I went out front because Skrillex was already on. The Cell (motion capture stage setup device thing )was dope. I kept seeing footage of it pop up online and had to witness it in person. Im positive a lot of people had the time of their lives at the show.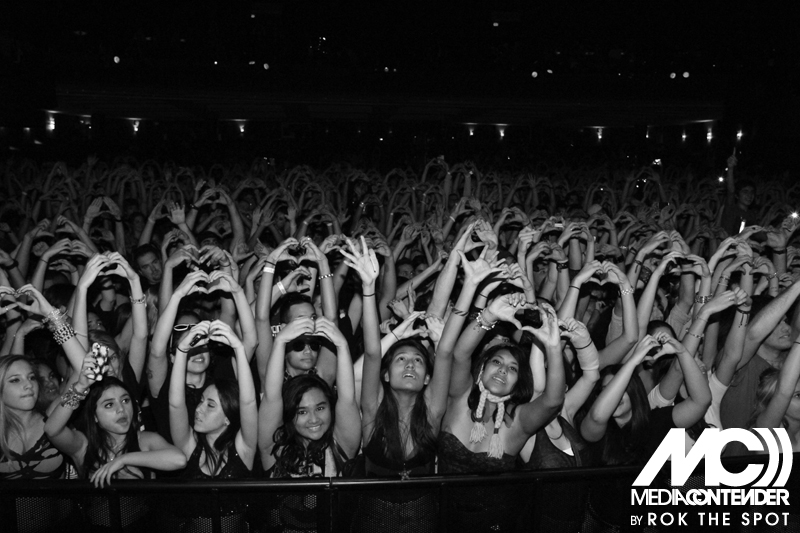 "Put your hearts up"
I wanted to make sure I had time to get to the next event so I bounced before it ended and inhaled a slice of pizza to cushion the alcohol I was getting ready to drink. Off to Grand Central for round 2.
12th Planet was headlining the after party and a *special guest* was scheduled too. It was obvious to me the second I got the notice about the show who it was gonna be. A good amount of people didnt know so that must've been a sweet surprise to see Skrillex come out and spin back to back w/12th Planet.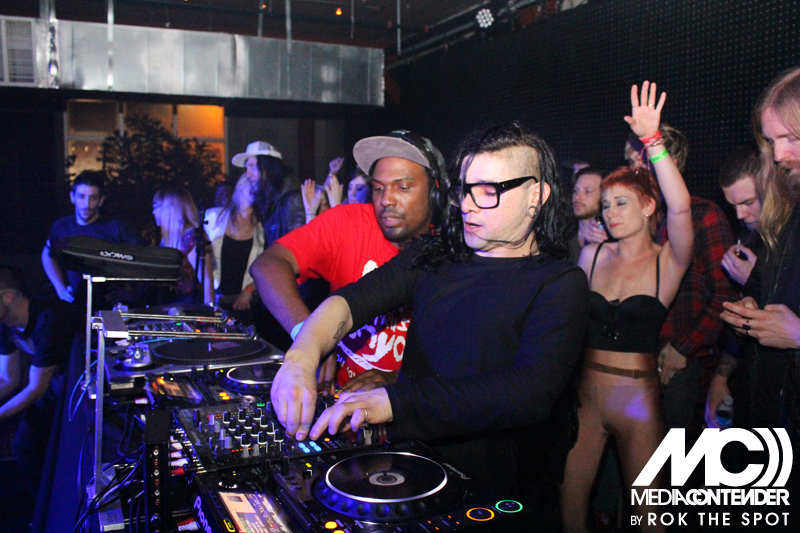 12th Planet + Skrillex; brothers from another mother
From the moment I walked in people were feeding me drinks like it was my birthday even though it wasn't. But then I made it my bday. Shit was so real. Too real. But it was the motherfukkin Mothership meng what do you expect? People got pregnant. Babies were born. The full circle of life took place in the crowd that night as the Mothership had its way with downtown Miami. Another memorable night.
*LOOOLOLOOZLLZ I just remembered how that night ended. Fuck. What a mess. I amaze myself sometimes. Fuck.
The following day was the pool party at Arkadia at the Fountainebleu Hotel. Sundays all I ever want to do is lay in bed and not do shit but I had responsibilities to fulfill. I was kind of bleh about it only because I didnt know of any of my peoples going and that beach crowd is usually douchey. Also, I went hard in the paint at GC the night before meng and was on 3 hours of sleep. I went anyway and I'll tell you what though, the girls there were Tv show fine. Holy shit them girls were hot. Something like runway models with a strippers essence. I was smitten.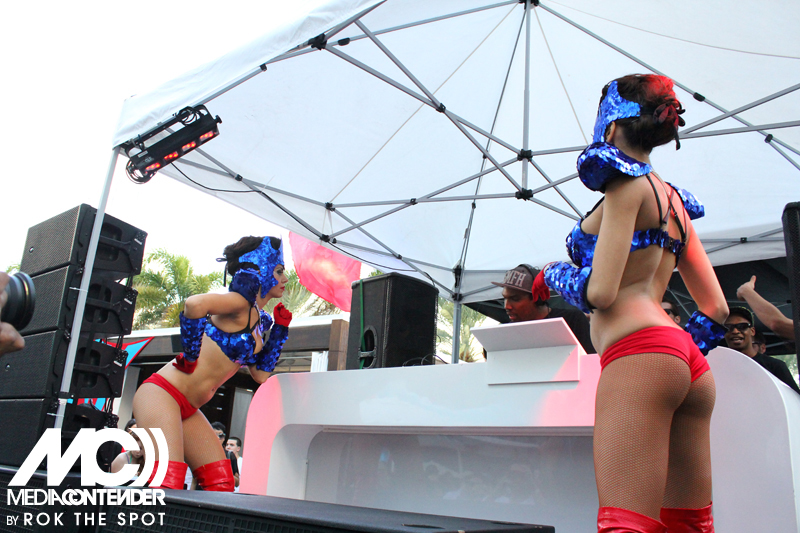 Nadastrom was warming up the crowd on some chill vibes for a while then hit them w/the one-two party rocking tunes they're known for.  Everybody was up and dancing in no time. 12th Planet went on a little late voluntarily because as he acknowledged "they were killing it". They were indeed doin the damn thang. I wanted to see how the crowd would react to his set but they went for it, all the way. Ignorant ass bass and grimy dub step and all. I hadn't ate anything all day so I drank beers cuz there was enough dranks going around to sink a pirate ship. Im serious. By the time Skrillex went on the crowd was heavy so I chilled in the VIP cabana for a while like a boss. Met Niles from Jam Tech Foundation. Cool dude. I think he was right when he said "people love drum and bass and they don't even know it." *He made the comment because Skrillex threw down dnb towards the end of his set and everybody went crazy loco.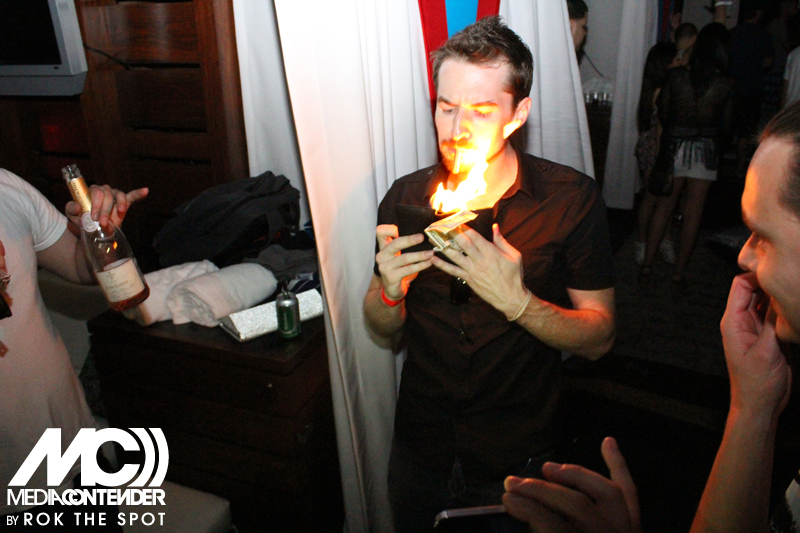 Illusionist Philip Kaiser smoking Craze's $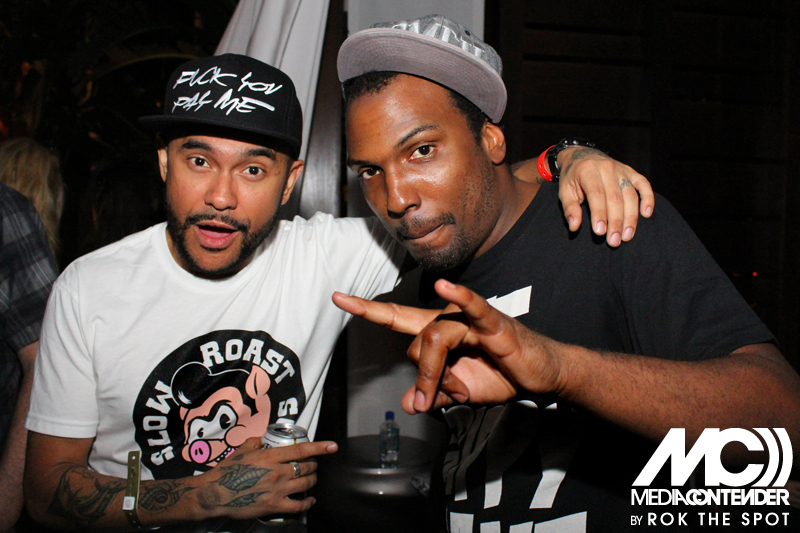 Original Gangstas Dj Craze x 12th Planet
The Mothership was only in town for 24 hours but by the end of the night I felt like I had been up all week.
Full photo album here…
And finally, the moment you've all been waiting for…